Getting around in a VoiceThread
Once you've opened a VoiceThread, you can view all of the slides and read/listen to any comments on those slides. See the key below for all the elements of a VoiceThread.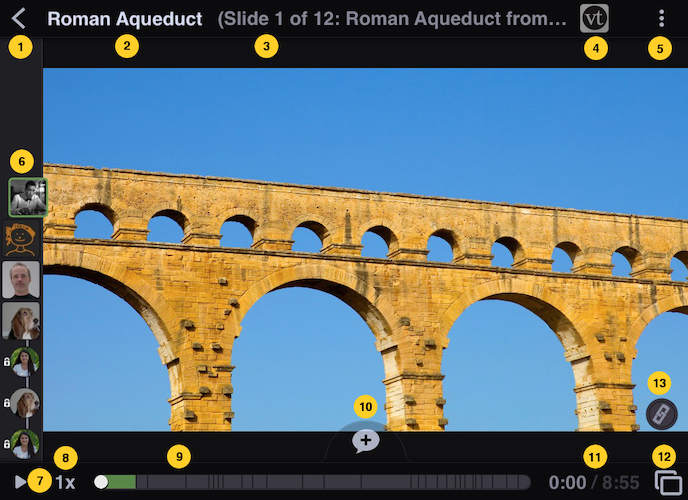 Back button: Tap here to exit the VoiceThread and go back to the page you just came from.
Title of the VoiceThread.
Number and title of the slide you are viewing.
Your Identity: This is the identity you are currently using. Tap here to select a new identity.
Menu: Tap here to share, edit, subscribe, enable closed captions, or view more information about the VoiceThread.
Conversation channel: This is where all comments on the slide are listed. Tap on an individual comment to view or hear it.
Play/pause the VoiceThread.
Increase or decrease the playback speed.
Timeline: This tells you where you are in the conversation. Each segment represents a separate comment. Use the scrubber ball to move forward or backward.
Comment button: Tap here to record a new comment on this slide.
Slide duration.
Postcard view: Tap here to view all slides in the VoiceThread. This is also where commenters can add new slides if they have permission to do so.
Link viewer: This button only appears if there is an active link on the slide. Tap here to be taken to that link in your web browser.
Use your finger to flip forward or backward through the slides in the VoiceThread, just as if you were flipping through photos in your library.